A couple years ago Todd Leopold, a CNN editor picked
the scariest books of all time
. In addition to my choice of
The Exorcist
, the other books in the top five were: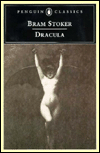 Dracula - Bram Stoker

Complete Stories and Poems of Edgar Allan Poe
I have read all of these books and can guarantee that there are chills in each of them. Poe and Jackson capture the madness inside the human existence. Stoker plays on our worst fears. And Blatty and King take these themes and put them into a modern context. These books are good, scary reading for a dark autumn night.